Zirconia Dental Implants have been used in Europe for more than a decade, and it showed that it can offer exceptional biocompatibility and stability. Although not suitable for everyone, zirconia dental implants may be a better choice for certain clinical situations. 
Advantages of Selecting Zirconia Dental Implants
This substance is totally inert and may be a great alternative for individuals with recognized metal allergies or sensitivities. Zirconia implants can be aesthetically pleasing, removing the chance of any dark lines across the gum. Originally, they were just available as a one-piece implant. But the introduction of two wheeled zirconia implants today allows for abutments to become fully customized, creating the best results. A metal-free zirconia implant may be fitter for gum tissue. Because this substance retains less plaque and calculus than titanium, so particularly when selecting one-piece zirconia implant. Zirconia has a fantastic flexural strength and it proved it's superiority to other ceramics concerning fracture toughness.
Its white color, very low modulus of elasticity, and reduced thermal conductivity has produced this material as an extremely attractive choice for implant dentistry. Clinical studies have proven zirconia to be as good or even better compared to titanium concerning osseointegration. This is due to the high amount of contact between the implant and the jaw bone, allowing the bone to fuse closely together with the implant, resulting in good osseointegration.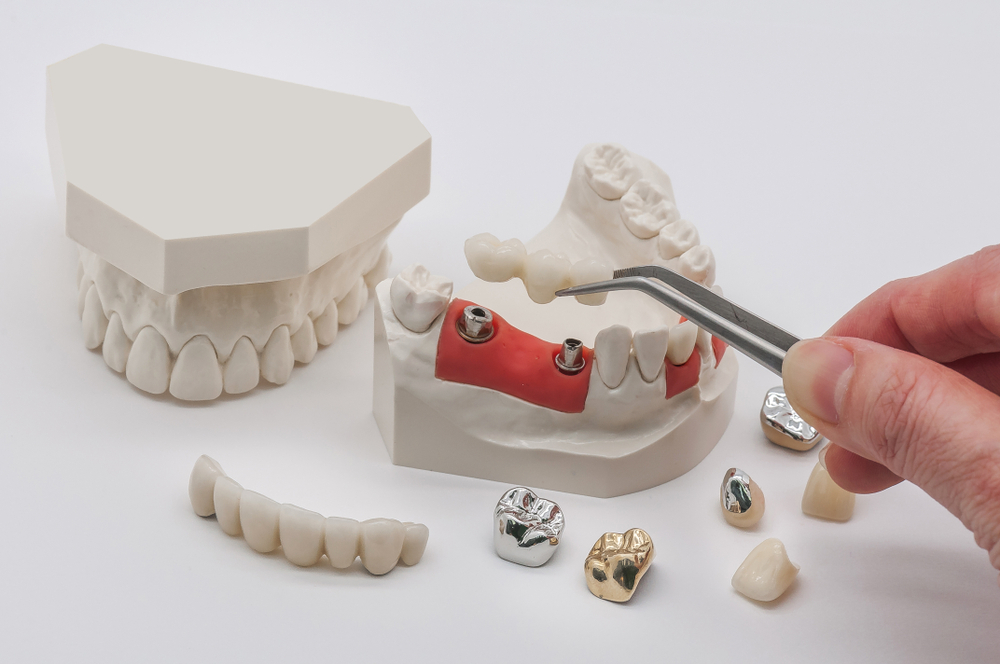 Disadvantages of Selecting Zirconia Dental Implants
One of the biggest drawbacks of choosing zirconia dental implants would be low-temperature degradation as the product ages. This may potentially result in the mechanical components of this substance getting degraded. Reducing the power, density, and toughness of this material. As yet, there haven't been numerous clinical studies into the long-term achievement of these products. 
The majority of the failures listed for two-piece dental implants were due to aseptic loosening. Considering that there is no enough research into two-piece zirconia dental implants. Some clinicians might rather use one-piece dental implants, however the limitations of the systems has to be considered. The options for abutment angulation are lower, and this might endanger the surgical placement of the implant. Additionally, placing a zirconia implant at a less-than-optimal place might have a negative influence on the physical properties of the material. Single-piece it is also demand a load-free healing period. Which may at times be difficult to accomplish in normal clinical scenarios. 
Clinical Studies:
Clinical Studies to the long-term success and viability of zirconia dental implants are very limited since the use of zirconia dental implants is still relatively fresh. Whereas ceramic dental implants are extensively studied for decades, making reliable data on their long-term usage, studies into zirconia dental implants merely evaluate two or three-year survival prices. Where they do exist, these studies create great outcomes, with cumulative survival levels equaling those of ceramic dental implants.
Interesting point is that excess cement is a frequent complication with titanium dental implants. It can evoke an inflammatory response, however no one reported peri-implantitis compared with zirconia implants, at least not yet. It is not very clear if this is a result of the high biocompatibility of zirconia. Or even because of that there is no research yet.
Patients choosing to get zirconia dental implants must be aware of the probable contraindications of using this substance as well as the possible advantages.
Having Dental Implant in Turkey
Our medical team of Surgent, doctors, advisors and medical staff at Health&Beauty in their relentless pursuit to keep up with the latest medical technologies and methods, can provide you with the best treatment options and free consultations.
Request a consultation now!