Follicular unit extraction (FUE)
FUE or Follicular Unit Extraction, involves removing healthy hair follicles directly from a donor area on the scalp (usually at the back of the head where the hair is plentiful) and grafting them onto the bald or thinning areas.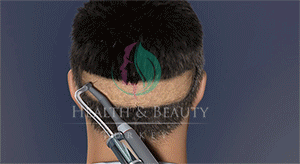 The treatment is carried out under local rather than general anesthetic, eliminating risks and downtime associated with other hair transplant procedures. And, because the treatment is minimally invasive, there is no detectable scarring and, in most cases, patients are able to return to work the next day with their results.
The method uses a specialized punch device, ranging in diameter from 0.6mm – 0.9mm, to extract follicular units complete with necessary glands. This separates surrounding tissue from the unit, meaning minimum trauma and better results, as well as minimal risk of any detectable scarring. Transplantation of all the vital elements of each hair follicle means a better survival rate and better growth. The treatment is performed under a high-powered microscope using specially designed instruments, allowing the surgeon to work with the upmost precision for natural-looking, undetectable results.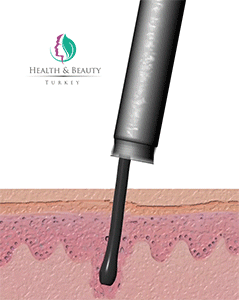 You will be treated by highly experienced Doctors. Our Hair Transplant surgeons are specialised in FUE (Follicular Unit Extraction) and treat hundreds of patients every year.
FUE is a minimally invasive treatment, carried out under local anaesthetic – many patients either watch TV, or even fall asleep during the procedure.
Unlike the Strip (FUT) procedure, you will not require any stitches after your treatment. This means that the recovery time is also reduced when compared to the Strip surgery.
We use the finest instruments, resulting in as minimal trauma to your scalp as possible.
Thanks to our advanced skills and techniques, results can be undetectable.
Following treatment, you will not have any linear scarring across the back of your head – you'll be free to wear your hair long or short.
We work by hair, not per graft – this ensures that only the strongest, healthiest follicles are selected for your transplant procedure.
Your results will look natural, with denser packing – the hair is implanted in the direction that matches your hair growth, and because we select healthy follicles, the treated area will look densely filled.
Our surgeons are the only surgeons in Turkey offering the Unshaven Hair Transplant (U-FUE) to those who prefer not to shave beforehand. At your consultation, we will be able to advise you on whether an unshaven procedure is suitable for you.
Scars resulting from injuries or previous surgeries can also be corrected.
FUE features:
Pick out the hair follicles individually from the donor and the area planted directly into the bald area
Do not leave marks (in the case was a doctor has experience) in donor area
Does not require the use any sharp cutting or stitching wounds in the donor area
And do not leave any complications for the patient keep him out of his natural life.
Links hospital where the patient can return to work immediately after the operation Day
Steps of the implementation process of FUE hair transplant technology
Shaving the head and bite cases be sufficient to shave the donor area only
Drawing the front line
Sterilize scalp
Local anesthesia of the scalp
Pick out the hair follicles
Sort follicles
Clean heal the donor area
Local anesthesia of the area to be replanted
Open channels in the bald area
Start planting the bulbs in the canals
The next day is washed scalp of clots, scars, remnants of the process